Meesterchauffeur
Paul Brenkman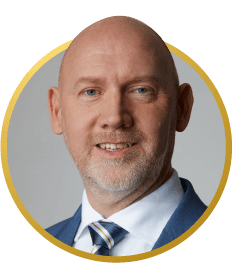 According to Paul, being a Meesterchauffeur (i.e., a driver of Meesterchauffeurs) goes far beyond making sure that passenger, time, and place fit together. It's like chess; you always must think five to six moves ahead. Only then will you be the perfect host within that small movable space – which is sometimes office, sometimes resting place for your guest.
Hosting, chauffeuring, timing, planning, and managing are inseparable. As a manager and consultant in special VIP transportation, Paul was jointly responsible for the transportation around several official state visits of foreign government leaders, royal guests and even the Emperor of Japan. As coordinator, he ensured that there was no deviation from the protocol script, that all drivers received the correct instructions and that the parties involved were constantly informed.
Born and raised in Rotterdam, Paul has been a certified VIP driver for many years. At the age of 21 he started as a regular driver for members of the board of directors of various multinational companies. Over the years, various Ministers and State Secretaries followed. Being a driver and confidant, Paul discovered how essential creating a positive experience is for the guest, his own job satisfaction and that of his colleagues.
Of course, all Meesterchauffeurs – including Paul – are certified at the highest level. Although this promise is perhaps the most important thing of all, we believe that a passenger should not lack anything: the new, safe, and luxurious car is therefore equipped with reading material, drinks, and refreshments as standard, for example.